---
---
DECEMBER 3 , 2022
The Hub Roadhouse – Lucan ON
4pm-7pm
Join Katy and Robert Reid at The Hub Roadhouse in Lucan ON for lots of originals, some rockin covers, and probably even some Christmas tunes! It is December after all 😉
---
DECEMBER 11, 2022
Lobster Burger Bar – Waterloo, ON
4-9 pm – Tickets $10
Both Katy Topham and Jessie T will be performing!

Fundraiser and food drive for Atlantic Candians affected by Hurricane Fiona
Food going to the distribution center in Halifax.
Tickets will be $10 with ballot portion to be entered in draw for dinner for 4!
---
DECEMBER 17, 2022 – A FAMILY COUNTRY CHRISTMAS CONCERT! ft. Jamie Warren & Katy Topham (& Jeremy Williams)
Kitchener Waterloo Little Theatre – Waterloo ON – 9 Princess St E, Waterloo, ON N2J 2H4
Doors: 7:30pm , Show: 8-10pm
Tickets: $25 – follow the link here, there will also be tickets available at the door IF we don't sell out!
Donations: We will also be taking donations for the Food Bank of Waterloo Region!! Non-perishables please! They currently are specifically looking for: Canned fruit, vegetable, meat, and fish, Dry beans and pasta, Hot and cold cereal, Individually packed snacks, Jam/spread, Peanut butter, Rice. You may also give a cash donation if you'd like as we will have a box for that as well.  
Join Jamie & Katy for a Christmas celebration you can sing along with! We will do some originals you know and love, maybe some new songs you haven't heard, and of course Christmas tunes! We'll have Jeremy Williams there to accompany on guitar and harmonies and free hot chocolate. Can't wait to see you!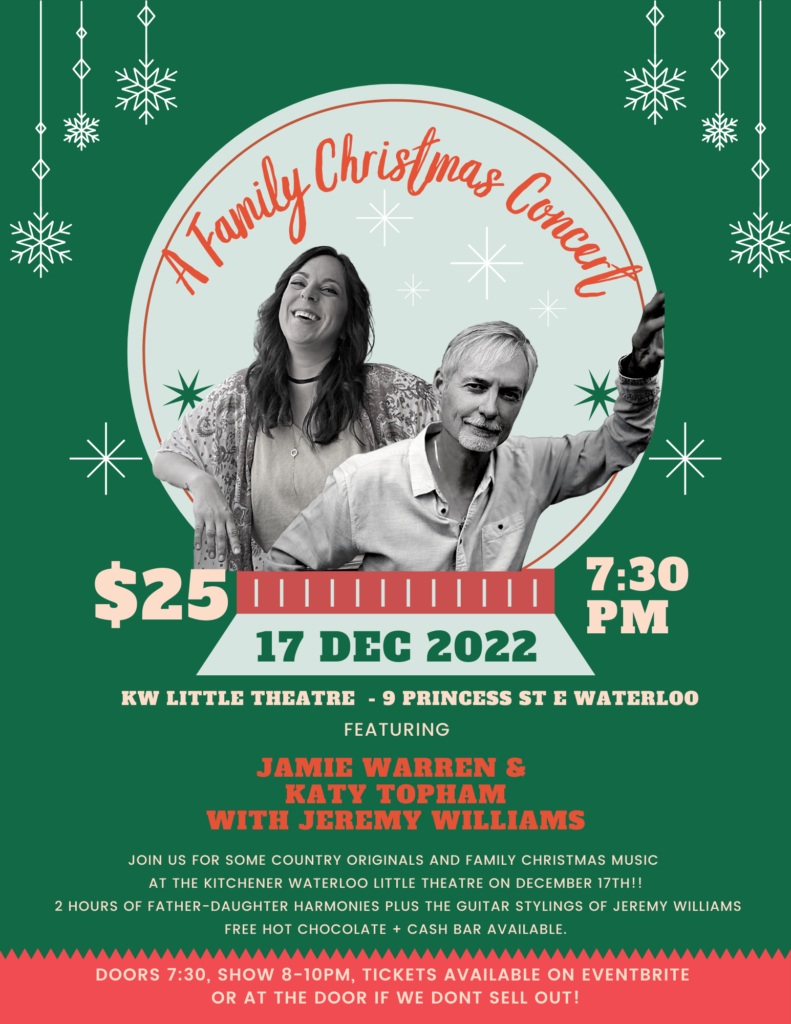 ---
DECEMBER 18, 2022 – Jessie T's Christmas Sweater Party!
StrykerZ Kitchen & Bar
2-6pm

Join Jessie T, Eric Bolton, and Katy Topham for a Christmas sweater party at StrykerZ Kitchen and Bar on December 18th from 2:00PM – 6:00PM
Reservations recommended
---
DECEMBER 30, 2022
Bobby O'Briens – Kitchener ON
8-11pm
Ring in the New Year with us!!!! Katy Topham, Eric Jackson & The Willow River Band, and Angelica Appelman will be performing for you and it's gonna be a rockin-country good time! Come on out and dance with us!!!
---
NEW YEAR GIGS: Stay tuned for posts about upcoming gigs in the new year!