head to Katy's instagram for the most up to date information, the site will be back soon better than ever! Keep checking in! xo
Scroll to Content
Katy Topham possesses not only a unique and distinctive singing voice but also an incredible talent for creating memorable and authentic music. Katy engages crowds with an acoustic homey feel and tells real, honest and funny stories about life through her songs…
Since 2019 Katy has released 8 singles, all resulting in radio play and available online. She just released her sophomore EP in September 2022 and it's available for order (CD) or online on all streaming and purchasing platforms (including bandcamp and soundcloud) In addition to performing locally, Katy has performed at several festivals and was among those selected out of hundreds of applicants, for the Canadian CCMA Songwriters Showcase in 2012, and performed at the "All Woman Bluejay Sessions" in Calgary during CCMA week September 2022.
Katy's newest single release 'I Don't Even Know Her' is a reflection on her experiences with addiction and mental health. "The song highlights the disconnect I feel as a person in recovery to the person I was in active addiction. It also shows a parallel to my mental health struggles; in the worst of times resulting in disassociation. I hope this song speaks to my peers and lets them know they're not alone on this journey, and healing isn't linear."
HELLO IN THERE; A TRIBUTE TO
JOHN PRINE
GUELPH MAY 18TH Katy Topham and many other talented artists will be performing classic John Prine tunes in this tribute. Tickets at door.
COUNTRY TALKS MENTAL HEALTH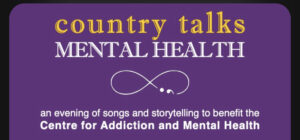 MAY 24TH Ontario's top country artists share their stories and songs about battling and overcoming mental health and illness. At the Moonshine in Oakville.
HOHNER AVE PORCH PARTY - KITCHENER

The Hohner Avenue Porch Party is on the last Saturday of May, from 3pm until 8pm. Tons of talented KW Artists playing all over the Avenue! Come out!