MONDAY MARCH 21ST, 2022
"Musicians FAQ" Radio Show and Podcast with Stewart McKie
---
THURSDAY JUNE 24TH, 2021
"5 Questions with Katy Topham – Canadian Beats" with Jenna Melanson
Katy discusses her new single; California.
Read Interview here
---
FRIDAY JUNE 25TH, 2021
"New Music Fridays" MBC Radio : CJLR-FM with Steve Kimball
---
WEDNESDAY APRIL 21ST, 2021
"Top Track with Coral Andrews" – The Afternoon Drive @2to6withCoral

---
MONDAY AUGUST 17, 2020
"Behind The Lyrics" – Music's Journey ft. Jamie Warren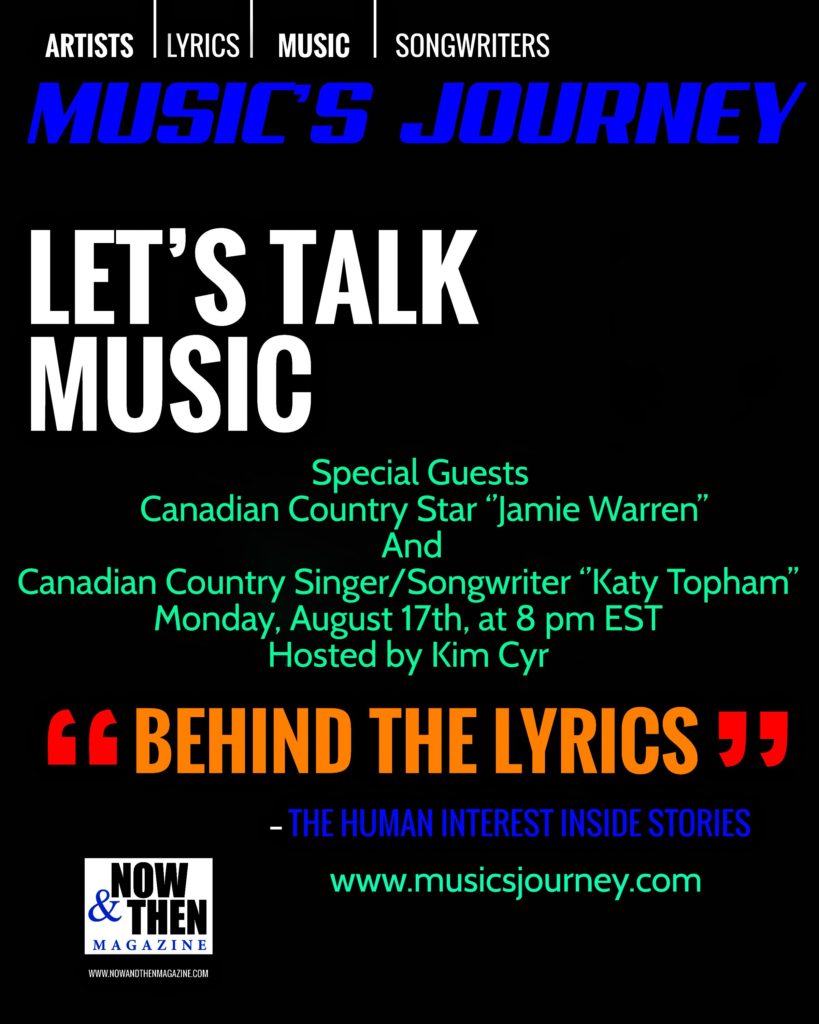 "We talk about journeys in music that past down from one generation to another and we have had some celebrated talent from generations past and present. One of those legends we talk about are 'Mel Tillis' a'nd his daughter 'Pam Tillis." "We have talked about the legendary 'George Morgan' and his daughter 'Lorrie Morgan."
"Today, I am so happy to have here with me, one of those very special relationships." "I would like to welcome one of Canada's most awarded and celebrated independent artist "Jamie Warren" and "Katy Topham" she is an amazing singer/songwriter and great storyteller.
"This is a very special interview that was to hard to script out. Please take a listen as it was so much fun full of laughter and great stories behind the lyrics and artists." – Kim Cyr
---
TUESDAY JUNE 16TH, 2020
"THE TODD DONALD SHOW" BY TODD DONALD
"Katy Topham, Kitchener/Waterloo (Singer/songwriter) is one of those longtime friends, where you can instantly tell i'm not just comfortable with, but comfortable with enough to interject with bullshit, but who thrives on it and bullshits back with me. We had a fantastic conversation of course, we talked about her music, her long period of distance with music and the hard times and other times, that shaped and evolved her into the strong and amazing woman she is today. We talk about her recent marriage and her and her husband Ryan's more recent child-having! And it's all very in, and out, of sequence, of those things.
We also have our long-standing friendship and co-worker-ship that in itself has some stories to tell and laugh about. Plus, I insert (near the top of the episode), Katy's newest single "I Just Don't Feel Like Lovin' You", which is freakin' fantastic!! One more thing, sunshine and warmth, so exotic and grand! I've been in the arctic too long." – Todd Donald
---
TUESDAY FEBRUARY 23RD, 2020
"New Music Fridays" MBC Radio : CJLR-FM with Steve Kimball

---
FRIDAY FEBRUARY 7TH, 2020
"Coast to Coast Closeup" with Cal Gratton CJVRFM
Melfort, SK, Canada / CJVR Today's Best Country
---
JANUARY 2020
"In The Country with Dave Woods"
"Kitchener's Katy Topham is here to chat about her new single"I Just Don't Feel Like Loving You" which she wrote with country artists Duane Steele and her Dad – Jamie Warren!
She also chats about songwriting, influences & more!" – Dave Woods
---